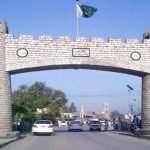 ISLAMABAD: The government and the opposition parties have reached an agreement on the issues of delimitation and census issues.
The consensus was reached during a meeting of the parliamentary leaders of the Senate with the Prime Minister Shahid Khaqan Abbassi at the Parliament House in Islamabad this morning.
Talking to media along with parliamentary leaders , Aitzaz Ahsan said that the Prime Minister had assured to address the reservations of the opposition parties regarding the new delimitations and the census issues.
He said five percent blocks would be re-audited based on random sampling according to the procedure proposed by the opposition.
Aitzaz added that the voting on the Constitution amendment bill would be held on Tuesday next and all the parties who had objections on the delimitation would take part in the voting process in the Senate.
Speaking on the occasion, Leader of the House in Senate Raja Zafarul Haq said that a similar meeting would also be held on the issue of FATA reforms.