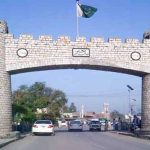 RIYADH: Awami National Party (ANP) President Asfandyar Wali Khan has said that the Pakistan Tehrik-e-Insaf (PTI) government in center has badly failed to overcome the country's problems.
While addressing a meeting in the Saudi capital, Riyadh, Asfandyar Wali Khan lamented that Prime Minister Imran Khan continues to beg for loans for the country and then feels proud of himself.
"Politics of revenge are being played out under the guise of accountability," Wali commented, adding: "If former president Asif Ali Zardari's sister, Faryal Talpur, can appear in front of the joint investigation team (JIT) then why not the prime minister's sister, Aleema Khan?"
The ANP leader also talked about the National Accountability Bureau's (NAB) arrest of Pakistan Tehreek-e-Insaf (PTI) member Aleem Khan, who was the senior minister for local government and community development, saying: "The drama of Aleem Khan's arrest will soon unfurl as well.
"The NAB will give Aleem Khan a clean chit," he said, adding that the authorities are only coming for leaders of the Pakistan Muslim League-Nawaz (PML-N) and the Pakistan Peoples Party (PPP).