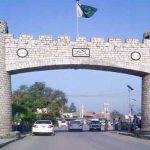 ISLAMABAD: The interior ministry on Sunday has prepared suggestions for setting up cattle markets across the country for Eid-ul-Azha.
According to the recommendations, the markets will be established on entry and exit points of the cities. However, complete ban will be imposed on setting up the markets inside the cities.
On the other hand, tenders have been issued for installing cattle markets in Rawalpindi and Islamabad from 1st Zil Hajj to 13 Zil Hajj.
Deputy commission has also forwarded standard operating procedures (SOPs) to the concerned authorities in this regard.