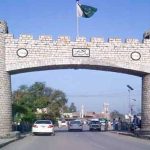 PESHAWAR: Khyber Pakhtunkhwa Finance Minister, Taimur Saleem Jhagra says the government has presented the best possible budget despite the financial crisis and corona pandemic.
Addressing a post-budget press conference in Peshawar on Saturday, he said record one hundred and forty-eight billion rupees have been allocated for health and Covid-19.
The Minister said two hundred and seven billion rupees will be spent on the promotion of elementary, secondary, and higher education in the province.
Speaking on the occasion, Advisor to Chief Minister on Information Ajmal Wazir asked other provinces to provide three percent share of their NFC for development and prosperity of tribal districts to remove the seventy-two-year deprivations of the tribal people.