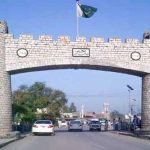 ISLAMABAD: The federal government Wednesday sough the parliament guidance on current political and economic crisis and upcoming elections in Punjab and Khyber Pakhtunkhwa, besides requesting for full authority to law enforcement agencies control armed groups.
Speaking at a joint session of parliament, Sanaullah stated that parliament needs to provide guidance on three points: the current political, administrative and judicial crisis; the upcoming elections; and the economic situation.
Federal Interior Minister Rana Sanaullah asked the parliament to give full authority to law enforcement agencies to control armed groups and terrorists.
He claimed that Imran Khan brought armed groups to Islamabad, clashes occurred in Zaman Park, and police officers were injured by the use of stones, but no single shot was fired by the police. He stressed that agencies responsible for enforcing the law should be given full authority to control armed groups and terrorists. He warned that of the crisis, created in the past eleven months, is not addressed, it will harm the country.
The interior minister also questioned the Supreme Court decision regarding KP and Punjab Assemblies elections within 90 days, saying that the constitution is also calling for fair and transparent elections under caretaker government. He said that April 30 date is not within constitutional period of 90 days. He said that the government was not running away from elections, but it wants fair and transparent elections so that everyone should accept its results, otherwise the election would create anarchy in the country .
Rana Sanaullah also mentioned that chief justice remarks about delay in elections, saying that the ECP has announced the election schedule on the order of the Supreme Court.
He said that the chief justice should ask lawyers in Lahore about the sons of a judge, adding that everyone would second these videos and audios. He said that the parliament has authority to amend the constitution and every institution derives it power from parliament.