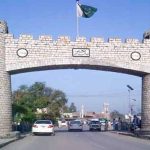 GILGIT: Pakistan People Party (PPP) Chairman Bilawal Bhutto Zardari on Thursday said that the government was against the poor adding that it should take the poor into consideration before making decisions.
Addressing a press conference in Gilgit, Bilawal said that the country's economic condition was worsening day by day and the prices were skyrocketing. The federal government should stop its policies that are against the poor people, he added.
Bilawal also slammed Prime Minister Imran Khan for "criticising" his political opponents on foreign visits.
"The prime minister's behaviour is unprofessional. He criticises his political opponents during foreign trips when he should be representing the government."
"A prime minster visits another country to support it but he [Imran Khan] speaks about politics. Imran Khan formed the government by stealing votes," Bilawal added.
The PPP leader continued, "PPP is a strong party. We have faced dictators such as Zia-ul-Haq and Pervaz Musharraf and we will now face this puppet prime minister."
Criticising the government, Bilawal said, "Not a single step has been taken to curb corruption. Imran Khan is an insecure leader whose government is very weak. He wants to pressurise his opponents by taking revenge so that they do not oppose him."
"If we want to curb corruption we have to hold everyone accountable," Bilawal asserted.
"There should be one rule for everyone and it has to be the same for everyone and non-political," he added.
"It is unfortunate whenever the country had a Bhutto as a leader who thought about the betterment of the country, non-political forces removed them," he lamented.
Bilawal further said that his party was ready to fight for the democratic rights and stand for free media.