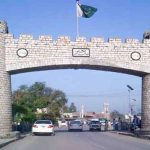 DOHA: Minister of State for Interior Shehryar Khan Afridi on Monday said the government was taking measures to facilitate and encourage overseas Pakistanis to invest in the country.
Afridi said this while talking to overseas Pakistanis at the Pakistan Embassy in Doha, Qatar, during his two-day visit to the Gulf state.
The overseas Pakistanis have a key role to play in the country's economy, and soon the expats will be given a favourable investment climate in their own country, he said.
The minister of state also attended the international conference on internal security along with Qatar's Prime Minister Sheikh Abdullah bin Nasser bin Khalifa Al Thani. The conference started today and will continue till Wednesday.
During his interaction with the Qatari dignitaries, the minister emphasised on the need to increase bilateral economic, security and cultural cooperation with Qatar.
On the Kashmir issue, Afridi said Pakistan will never compromise on its principled stand on the matter and will continue to support Kashmiris on every forum.