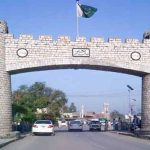 PESHAWAR: Minister for Religious Affairs and Interfaith Harmony Noor-ul-Haq Qadri on Saturday said the decision would be taken in consultation with ulema whether Ruet-e-Hilal Committee would remain operational or a lunar calendar would be worked out.
"Spending 400 million rupees is not a big thing, if the issue of moon sighting could be solved," Noor-ul-Haq Qadri said while addressing an interfaith harmony conference in Peshawar.
He said ulema would be consulted if the government would have to dissolve Ruet-e-Hilal Committee. However, the committee would keep working until any decision was taken in this regard, he added.
The minister appreciated Federal Minister for Science and Technology Fawad Chaudhry's efforts for the lunar calendar.
Fawad Chaudhry Saturday said that the Lunar Calendar would be prepared by 15th of this Ramazan.
Speaking at a gathering in Karachi science minister Fawad Chaudhry said that an app will also be introduced that would help to determine the sighting of moon.
Federal minister said that he has invited religious scholars to become a part of the committee formed to prepare the lunar calendar.
He also urged for providing government jobs of 14 to 16 grade pay scale to the prayer leaders.