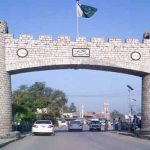 ISLAMABAD: The labourers and daily wagers will be provided ration at their doorsteps, Managing Director Utility Store Corporation, Umer Lodhi, said Saturday.
Lodhi, said: "Under Prime Minister's relief package we are drafting out a plan to provide ration to labourers and daily wagers, however, the scheme would be finalised within a week."
"I am also working on developing a data entry portal," he said, adding that a total of Rs50 billion was allocated by the premier for this project.
"The plan is going in accordance with Prime Minister Imran Khan's instructions," he added.
The official said that the labourers will be given priority in the scheme.
"Labourers, coolies, and daily wagers have suffered, — during the lockdown due to coronavirus across the country — we will provide them ration on their doorsteps," he said.
"To distribute free ration we are taking the help of government's data," he added.