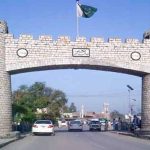 ISLAMABAD: Minister of State for Capital Administration and Development Division Tariq Fazal Chaudhry has said that government will fulfill its commitment of FATA Reforms.
Talking to media in Islamabad on Tuesday, he said that government is making efforts to implement FATA reforms and priority will be given to the decision to be taken by the people of FATA.
Tariq Fazal Chaudhry said that Prime Minister Nawaz Sharif has advised the FATA Reforms committee for more consultations so that it could be implemented according to the wishes of the people of the tribal areas.
He said the provinces will have to bear some cut in their funds for the development of FATA. He said Punjab and Balochistan are ready to give their due share for this purpose.