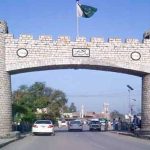 ISLAMABAD: The government on Tuesday announced that it would move the court to initiate contempt proceedings against the Chief Election Commissioner (CEC) and members of the Election Commission of Pakistan (ECP) if they did not resign from their offices.
"We are working with the Attorney General of Pakistan and if the ECP (members) does not resign, we will go for contempt of court proceedings against them," Minister for Science and Technology Fawad Chaudhry said at a joint press conference with Minister for Industries Hammad Azhar.
"We believe that the ECP (CEC and members) should go itself, otherwise we have legal options," the minister said.
Being a political party, the Pakistan Tehreek-i-Insaf (PTI) had only conveyed people's demand to the ECP high-ups to tender resignations and gave an opportunity to the parliament to form a new commission, he said.
"The current commission is not serving the purpose for which it was created," he said, adding that the ECP could only be credible if all political parties had faith in it.
The government believed that the ECP had not followed the orders of the Supreme Court to hold the recent Senate elections through the use of technology to curtail chances of rigging and 'horse trading'.
The minister said Article 218 (3) of the Constitution clearly stated that the ECP was responsible to hold free, fair and transparent elections with no corrupt practices. All political parties had a consensus that the ECP had failed to fulfill its responsibilities, he added.