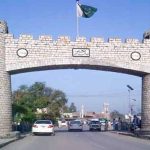 ISLAMABAD: Minister for Foreign Affairs Shah Mahmood Qureshi on Wednesday said that a bill will be tabled in the National Assembly for the creation of the South Punjab province.
Addressing the media after a high-level meeting, Qureshi said that Prime Minister Imran Khan has taken the decision to move forward with the process of creation of the South Punjab province.
"This is in line with PTI's manifesto," Qureshi said.
According to Qureshi, Punjab Chief Minister Usman Buzdar, some federal and provincial ministers from South Punjab, the Punjab chief secretary and inspector general of police were present in the meeting.
"It has been decided that a bill will be presented in the national assembly in order to turn the South Punjab region to a province. Input and consensus will be sought from other parties on the matter," Qureshi said.
The federal minister said that as a two-third majority in the parliament is required for the creation of the new province, time will be required to create consensus [among political parties].
"Meanwhile, in April a secretariat will be set up to cater to the problems of the people of South Punjab," Qureshi said, adding that an additional inspector general of police and chief secretary would be appointed specifically for the region.