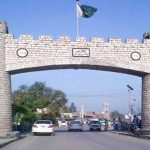 MULTAN: Foreign Minister Shah Mehmood Qureshi on Sunday asserted that the opposition parties would be taken into confidence regarding the federal government's deal with the International Monetary Fund (IMF).
He spoke to the media in Multan, and responded to the opposition's criticism against the government over inflation and economic policies.
"Had not [previous governments] of Pakistan Peoples Party (PPP) and Pakistan Muslim League-Nawaz (PML-N) approached IMF?" he asked.
Regarding the sudden hike in prices of petroleum, he stated if it had not been done, Pakistan's current account deficit would have increased, and the decision was taken upon the recommendation of the Economic Coordination Committee (ECC).
On the matter of reshuffling of members within the federal cabinet and other departments, Qureshi said that the PML-N has also changed a few of its members.
"It is the right of every political party to shuffle its members," he went on to say.
However, he maintained that the PPP has expressed certain reservations over the appointment of Rana Tanveer as the chairman of the Public Accounts Committee (PAC).
"The party is of the opinion that it was not consulted over the matter," he added.