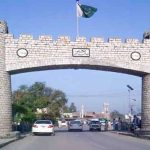 ISLAMABAD: Federal Information Minister Fawad Chaudhary has asserted that the federal government has been trying to persuade the opposition political parties on the matter of extension in functioning of military courts, however, if other parties consider the proposed extension to the courts 'unessential', then the extension would not be granted.
Fawad Chaudhry said that the federal government still consider that the military courts are required as the war on terror is close to its end.
Amid political rift between the ruling Pakistan Tehreek-e-Insaf (PTI) and the opposition parties, the required constitutional amendment for an extension in functioning of the military courts could not be achieved, and resultantly the courts came to a halt on Sunday.
The two-year constitutional term of the military courts, which were set up under the National Action Plan (NAP) in 2015 to try persons on terrorism charges, has expired.
To resolve the issue, the PTI has planned to pass a constitutional amendment in the Pakistan and the Army Act, 1952, which requires a two-thirds majority in both the lower and upper house of the parliament.
However, it seems to seek support of the opposition parties as a key meeting of the parliamentary leaders, including heads of political parties, was called on March 28.
It was termed as part of implementation of the NAP, but the meeting was cancelled when the opposition parties refused to participate in the meeting.
This implies that no new cases can be lodged with the military courts until the extension is granted.
Pakistan Peoples Party (PPP) leader Nafisa Shah put forward the stance of her party on the issue by stating that they PPP would not support any parallel justice system and any action that contradicts the fundamental rights listed in the Constitution of Pakistan.
"However, if the PTI considers it essential, then logical reasons for another extension should be conveyed to us. Thereby, we can reconsider our stance," she added.
According to details of the cases which had been decided by the military courts, a total of 478 cases were wrapped up, and a total of 284 convicts had been awarded death sentences and 56 of them had already been executed. 192 convicts had been awarded rigorous imprisonment, two accused acquitted and 54 cases dropped due to technical reasons.