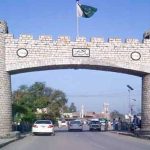 ISLAMABAD: Interior Minister Ijaz Shah says the government will fully facilitate the protest March of JUI (F) and will not create any hurdles in its way.
He was addressing a news conference in Islamabad today along with Special Assistant on Information and Broadcasting Firdous Ashiq Awan.
The Interior Minister pointed out that Maulana Fazlur Rehman kicked off his march on 27th of October and today they have reached the area of Gujjar Khan and Rawat.
He said on the instructions of the Prime Minister, the protestors from the four provinces have fully been facilitated. We provided them water, electricity and a traffic plan on their way to Islamabad so that reach the federal capital without any untoward incident.
Ijaz Shah said the protesters coming from Punjab and Sindh will enter Islamabad from Rawat T Chowk. They have been given the route of Faizabad and 9th avenue to reach their designated place of protest at H-9. The container of Maulana Fazlur Rehman will be given a separate route so that he could comfortably reach the protest place.
The Interior Minister assured to provide fully security to the protestors.
He said the protest place at H-9 has been cleared of all the shrubs and bushes, and water and electricity have been provided there. Places of latrine and hotels have also been marked there.
The Interior Minister said it is the first time in the country's history that a sitting Prime Minister has given a go ahead to a protest march of any opposition party. He said those wanted to fire from the shoulders of Maulana Fazlur Rehman and create anarchy in the country have failed in their designs due to the government's decision of not stopping the protestors.
Speaking on the occasion, Special Assistant on Information and Broadcasting Firdous Ashiq Awan hoped that Maulana Fazlur Rehman will peacefully take forward his march. He said the government has given space to the protestors in conformity with the democratic traditions. She expressed the confidence that the commitments made by the organizers of the march will be upheld.
The Special Assistant said Maulana Fazlur Rehman's narrative has no weight and is totally baseless. She however advised him not to weaken his relationship with Pakistan through negative politics. She said the JUI (F) should not resort to any act which distorts the image of Pakistan.
Firdous Ashiq Awan said Islamabad is also the abode of the diplomatic corps and it is the responsibility of the government and state to ensure the security of diplomats. She recalled that it was due to Prime Minister Imran Khan's efforts that Pakistan's image stands improved today and Pakistan was declared a family station by the United Nations for the international staff.