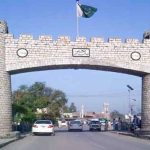 SHIKARPUR: Pakistan Peoples Party (PPP) chairman Bilawal Bhutto Zardari on Sunday said the government's move to reportedly change the name of Benazir Income Support Programme (BISP) was a "conspiracy" to end the social safety net programme.
Speaking to media here, the PPP chairman said women were protesting in Thatta and Sehwan after not being paid money under the BISP.
"They are anti-people and anti-poor individuals," he said, without naming anyone.
Bilawal said it was a "long-term conspiracy" under which the name of the programme would first be changed, followed by decreasing allocation for it, and eventually the programme would be ended.
He said, "They understand that money is being wasted through the BISP, but I consider it the best programme in the country."
The PPP chairman maintained the BISP was not just empowering women, it was strengthening the economy as well.
Criticising the government, he said Indus River System Authority (IRSA) was doing injustice to Sindh, adding that they were facing difficulties due to the attitude of the federal government.
Bilawal further vowed to prevent theft of water and conserve it.