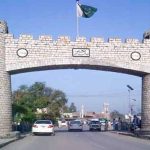 RAWALPINDI: Director General (DG) Inter Services Public Relations (ISPR) Major General Asif Ghafoor has said that government's decision in connection with the Faizabad Interchange sit-in would be implemented.
In his statement, Mr. Ghafoor; however suggested that it would be better if the situation was resolved amicably.
He maintained that that it was duty of everyone to keep the constitution in its original form.
He said that institutions are more important than individuals while state is more important than institutions. He said that Constitution should not be used to gain personal benefits.
Major General Asif Ghafoor said that civil and military leadership is united to safeguard the country.