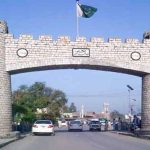 ISLAMABAD: President Mamnoon Hussain says peace in Karachi has been restored due to admirable efforts of the government.
Talking to a delegation of businessmen in Karachi on Sunday, he said PML-N government has laid strong foundations for development of the country during last few years.
He said peace in Karachi is very important for developmental of the country. He assured the businessmen to resolve their problems.
Mamnoon Hussain said efforts are underway to establish Economic Zones in the country under China-Pakistan Economic Corridor (CPEC).
He emphasized the need of joint efforts beyond political affiliations for development of the city and the province.