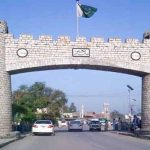 QUETTA: The Pakistan Democratic Movement (PDM) held its third anti-government rally in Quetta on Sunday and reiterated their resolve to oust Prime Minister Imran Khan, saying "the sun is about to set" on his government, Khyber News reported. The gathering was held at Quetta's Ayub Stadium, despite a warning by the government that militants can target it. Among the PDM leadership, PML-N vice president Maryam Nawaz, PPP chairman Bilawal Bhutto Zardari, as well as JUI-F chief and PDM leader Maulana Fazlur Rehman, all addressed the large show of supporters who gathered to hear the Opposition speak.
Maryam began by saying sentiments of Pakistanis were hurt after depictions of the Holy Prophet Mohammad (PBUH) were projected onto government buildings in France. She asked the people to raise their hands and record their protests against such disrespectful actions. "I love the people of Balochistan more than the people of Punjab," she said, speaking of her intentions behind donning a traditional Balochi dress. Maryam stressed that the people of Balochistan have just as much a right to elect their own representatives as anyone else in the country. Maryam said she remembers Dr Shazia, and Nawab Akbar Bugti, and how his loved ones were "not allowed to take a look at his body".
Referring to the Supreme Court's detailed decision on the reference against Qazi Faez Isa that was quashed, she said: "Imran Khan and his selectors should resign over their historic defeat."
PPP chairman Bilawal Bhutto Zardari was next to address the gathering remotely, via video link. Speaking from Shigar in Gilgit-Baltistan, Bilawal said that his party would not pull out from the PDM. "We can move two steps forward, but we will not step back." The PPP chairman said the people whether from Karachi, Gujranwala, or Quetta, all want freedom and the rule of democracy. Lashing out at the state the country has been driven to by the incumbent government, he said: "What sort of freedom is this that neither are the people free, nor is there is a free democracy." Bilawal said that it must be acknowledged that there would be no CPEC without Gwadar or Gilgit-Baltistan. Slamming the premier, he said that PM Imran Khan had "not given Balochistan anything" and that he was eyeing to take over the province's islands. Bilawal, who could not attend the jalsa due to campaign activities in Gilgit-Baltistan, had earlier directed his party workers and supporters to make the public gathering a success.
PDM chief Maulana Fazlur Rehman was the last major Opposition leader to speak, before the event was wrapped up. He started his address by condemning the dishonourable act in France and Denmark that had violated the sanctity of Holy Prophet Muhammad (PBUH). The PDM chief condemned the Karachi incident where reportedly law enforcement officials had entered Maryam Nawaz and her husband, retired Captain Safdar Awan's room by force. Talking about the government's foreign policy, he said that Pakistan's ties with its allies — China and Saudi Arabia — are "deteriorating". "These two countries have stood by us in our time of need."
Fazl warned the government that it would need an NRO, and not the Opposition. "We do not want the government of the intoxicated we want the government of sharifs (nobles)," Fazil said, in what could be considered a reference to the Sharif family. Fazl also said that "powerful people" should not make fun of their "love for the land" and their "loyalty".