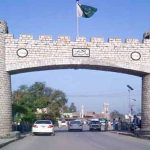 ISLAMABAD: The Grand Opposition Alliance (GOA) comprised of 11 political parties formed against Pakistan Tehreek-e-Insaf (PTI), will hold a protest demonstration outside Election Commission of Pakistan (ECP) in Islamabad today (Wednesday) against alleged rigging in July 25 elections.
The component parties of the PAFFE have directed all their winners, ticket-holders in election 2018 and senators to participate in today's protest demonstration.
The eleven-party alliance is consists of Pakistan Muslim League-Nawaz (PML-N), Pakistan People's Party (PPP), Awami National Party (ANP), Qaumi Watan Party (QWP), Pakhtunkhwa Milli Awami Party (PkMAP), National Party (NP) and the Muttahida Majlis-i-Amal (MMA) — an alliance of five religio-political parties including Jamiat Ulema-i-Islam (JUI-F) and Jamaat-i-Islami (JI).
The PML-N in a message issued on social media has directed all its ticket-holders in election 2018 to make sure their participation in today's protest demonstration.
JUI-F chief Maulana Fazlur Rehman in his video message has appealed all the candidates to participate in protest and reiterated his demand of resignation of chief election commissioner.
He further said that we do not consider this election to be the mandate of the public, but a theft of people s mandate and asked people to come out and participation in protest against rigging in July 25 elections.
On the other hand, Islamabad Police have chalked out a security plan to opposition parties' protest. Sources privy to the situation informed that only elected members of the parliament would be allowed to reach Election Commission of Pakistan offices.
Sources further said that 500 police officials would be deployed outside the Election Commission and entry routes of the Red Zone due to security concerns.