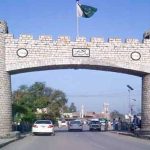 ISLAMABAD: The Pakistan Meteorological Department has said that the moon, marking the beginning of the month of Shawwal, is likely to be sighted on Sunday, June 25. Therefore, chances are there that this year Eidul Fitr will be celebrated in the country on Monday, June 26.
According to astronomical parameters, there is a 'good chance' that the new moon will be sighted on the evening of June 25 that is on 29th of Ramzan, 1438 AH, said a PMD official. And the new moon of Shawwal, 1438 AH will be born on crossing conjunction point at 07:31 PST on June 24.
The weather is expected to be fair to partly cloudy in most parts of the country on June 25, and thus a high likelihood of moon-sighting, said the official.
However, he added, the final and official announcement of the moon-sighting would be made by the moon-sighting committee that functions under the Ministry of Religious Affairs.
The Met Office had also predicted about the Ramazan crescent which proved correct.
And talking to The Express Tribune, an official in the Ministry of Religious Affairs said that a meeting of the Central Ruet-e-Hilal Committee to sight the moon is scheduled to be held in Peshawar on the 29th of Ramazan which falls on Sunday, June 25.
"However, it seems a bit difficult because a controversial cleric from Peshawar's Masjid Qasim Khan announced the holy month of Ramazan to start in Khyber-Pakhtunkhwa from May 27 – a day before it was started across the country," he said referring to Mufti Shahabuddin Popalzai.
Reporting moon-sighting before Ruet-e-Hilal committee could cost you up to Rs500,000
The Ministry of Religious Affairs made efforts to push Popalzai to cooperate with the government so that the first of Ramazan and Eid happen across the country on the same day, but in vain as yet.
"Due to the absence of a law, we cannot impose a fine or punish anyone who would announce the moon-sighting before an official announcement by the Ruet-e-Hial committee," he said, requesting the media and unofficial religious committees to cooperate with the Ministry of Religious Affairs.
The federal government has already announced Eidul Fitr holidays from Monday, June 26 to Wednesday, June 28.