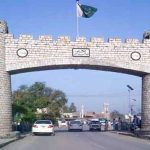 KARACHI: Investigation agencies on Sunday identified the group involved in the killing of two Karachi University professors.
According to details, important revelations have been made in murder case of Professor Waheed-ur-Rehman and Professor Shakeel Auj as murder weapon used in both the cases has been found same.
After this disclosure, investigation from target killer Mansoor detained in the murder of Professor Shakeel Auj has been initiated.
The suspect has revealed in his initial statement that he got the orders of Shakeel Auj's murder from some foreign country whereas five men also accompanied him in the killing in which he knew Faheem Jabal Poori and Ehtasham-ud-din.
Investigating authorities, after the confession of Mansoor, have launched a series of raids to arrest his accomplices.
Professor Shakeel Auj was killed in September 2014 in Gulshan Iqbal area whereas Professor Waheed-ur-Rehman was murdered last month in Federal-B area.