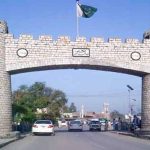 SUKKUR: Five districts lost power supply as branches of Guddu Thermal Power Plant's 132KV main transmission line broke, falling in the river.
More than five key towers came crashing down leading to the power cut. The transmission line leads to Sukkur and Hyderabad grid stations. Sources said that live wires collided due to strong gushes of wind.
Five districts including Ghotki, Kherpur, Sukkur and Dadu have no electricity for more than eight hours. President engineer concerned refused to comment on the situation.
Reportedly, main transformer of Guddu Thermal Power House in Kashmore had caught fire on Thursday. Electricity was suspended to Lahore Electric Supply Company (Lesco) and different parts for more than six hours as transmission lines in Sheikhupura had tripped.
The outage affected number of cities including Attock, Jhelum, Multan and Faisalabad, said officials.
On the other hand, Minister of State for Water and Power Abid Sher Ali informed the National Assembly that construction work on Dasu Dam project would be executed in the next few months.
He said that the project cost is Rs 486,093.30 million.
This is second massive electricity breakdown in about a week and a half.
Earlier in the past week, Mangla power station had tripped due to a technical glitch. Several Punjab cities including metropolitan Lahore had lost power supply.