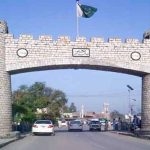 PESHAWAR: Five members of the same family, including two children were gunned down in Tarnab area of Peshawar on late Monday night.
According to details, some unidentified armed persons barged into the house of an agricultural department official Yahya's house in Tarnab area of Peshawar and opened indiscriminate fire, killing Yahya, his wife Kainat, sister and two minor kids aged between two and 13.
The motive behind killings is not yet clear. Police and rescue teams reached the spot and shifted the bodies to hospital. Police have started investigation.