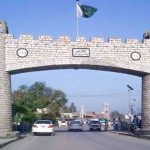 GWADAR: Prime Minister Nawaz Sharif on Sunday formally inaugurated trade activities at Gwadar Port as part of China-Pakistan Economic Corridor (CPEC) in a ceremony held at Gwadar city, which was also attended by Army Chief General Raheel Sharif, Chief Minister Balochistan and high civilian and military leadership of the country, besides ambassadors of different countries.
The ceremony was held to mark the opening of trade activities at Port under the China-Pakistan Economic Corridor (CPEC), which is being dubbed as a game changer not only for Pakistan but the whole region.
A ship carrying consignment of cargoes brought from China through the CPEC departed from the Gwadar Port formally marking the operationalization of the Port developed with the help of China.
The convoy of 150 trucks carrying cargo containers from China, which was also joined trucks carrying cargo containers from Sialkot and Lahore, had arrived at Gwadar on Saturday.
Addressing the ceremony Chinese Ambassador Sun Weidong said that the first trade convoy that is set to sail from Gwadar and pass through the western part of the country was realization of one corridor with multiple passages.
"This is first time that China and Pakistan co-organize trade convoy through Pakistan and Gwadar Port. This is win win cooperation between the two countries which," he added.
The Chinese Ambassador thanked Prime Minister Nawaz Shairf for what he said his guidance, support and assistance for the vital project.
"I would like to thank General Raheel Shairf and Pakistan Army for their support, initiative, and realization of the importance of the project," he added. The Chinese Ambassador said that the trade convoy, which entered in the North in Pakistan and travelled down to Gwadar, become the pioneer to pass through the western route of the CPEC.