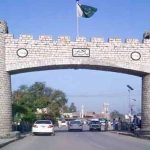 KABUL: Former Afghan President Hamid Karzai has said that the governments of Pakistan and Afghanistan should set together like two brothers and resolve their differences through talks to ensure durable peace in the region.
In an interview with BBC Urdu, Hamid Karzai termed Pakistan and Afghanistan as two brothers. "I want Pakistan to increase friendship and cooperation with Afghanistan" Karzai said. He said that Afghanistan never demanded US action against terrorists' safe heavens in Pakistan. "We want friendship with Pakistan but, Pakistan shall also treat Afghanistan as sovereign and integral state," he added.
Hamid Karzai also criticized US President Donald Trump's new policy for Afghanistan and South Asia and said that he see conspiracy behind US strategy in the region. He said that US has always criticized Pakistan for its role in war against terror.