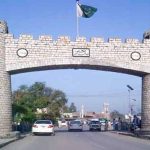 KARACHI: Once again taking to social media, Pakistani actor Hamza Ali Abbasi has called for a complete boycott of Indian content by the people and of Bollywood by Pakistani artistes, following the escalation of tensions between Pakistan and India at the Kashmir LoC.
In a post recently posted on social media, the actor called for a "Free Kashmir" and a boycott stating "The time has come when Pakistani artists MUST BOYCOTT BOLLYWOOD and Pakistani people must stop watching Indian content."
Stating India's threat of cutting off water supply to Pakistan and the atrocities carried out in Kashmir as enough incentive, Hamza Ali Abbasi said it was high time Pakistani artistes boycotted Bollywood and the common man boycotted all Indian content.
The actor has always been in the spotlight for his patriotism and raising controversial subjects on social media posts.
On the other hand, Pakistani actors like Mahira Khan and Fawad Khan were specifically targetted recently by the Indian nationalist party Maharashta Navnirman Sena (MNS) with an ultimatum to leave India within 48 hours.