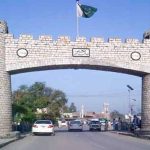 ISLAMABAD: Pakistani actor Hamza Ali Abbasi on Sunday married actress Naimal Khawar Khan. The simple Nikah ceremony attended by close family and friends was held in Islamabad.
Abbasi kept it simple in a plain white shalwar kameez set. Family and friends made dua for the couple as they surround the newlyweds.
Pakistan Tehreek-e-Insaf (PTI) leader and Senator Faisal Javed also attended the nikah ceremony.
The news of Abbasi marrying Naimal Khawar Khan has been making the headlines for the last couple of days.
The news came as a surprise for fans and people in the entertainment industry alike as there was no discussion in the past of Abbasi and Khawar being involved in a relationship or planning to tie the knot.
After a day of the image of the invitation circuiting, that fuelled speculations from fans and rumours floating online, the actor took to his various social media accounts to confirm the news on August 21.
He posted an image with a lengthy message and a picture with Khan on Twitter and wrote: "Yup, it's true. P.S Massive respect to Naimal for being ok with a Ganja [bald] me on Nikkah."
In the picture message, the actor thanked God for the relationship he has with Khan and told people to not give up on their quest to finding a partner.
The couple has been spotted together on various occasions in the past, most recently, Abbasi showed up to Khan's art exhibition recently. After the invitation initially circulated, social media users shared images from the art event of the duo together.