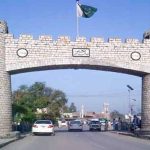 PESHAWAR: Local police said Wednesday they had arrested a suspect believed to have raped and murdered a nine-year-old girl Madiha in Khyber Pakhtunkhwa's Hangu district.
Police further stated that a pistol was found in the suspect's possession and that he had also confessed to the crime. The suspect had been identified and shifted to Kohat.
Inspector-General for KP Police Sanaullah Abbasi had visited the child Madiha's home on Tuesday and assured her family that law enforcement agencies would apprehend the suspect.
Also read: Man who raped, murdered minor girl in Hangu arrested: police
Advisers of nine local tribes, as well as political leaders, protested against the child's murder, demanding the suspect be publicly hanged. The demonstrators further appealed to lawyers not to fight the murder case and said the suspect's house be razed down in accordance with tribal traditions.
Earlier, on Sunday, the minor was found dead in the Sarokhel area of Hangu's Thall tehsil.
Police had arrested over 16 suspects in the case for interrogation.