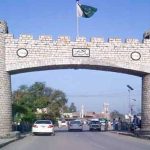 QUETTA: Hassaan Niazi, the nephew of Pakistan Tehreek-e-Insaf (PTI) Chairman Imran Khan, has been granted bail by a court in Quetta on Saturday. The bail was granted after he submitted surety bonds worth Rs300,000.
The Judicial Magistrate 3 granted bail to Hassaan Niazi who had arrived in the Balochistan provincial capital on Saturday with Quetta police on one-day transit remand.
Hassaan Niazi had arrived in Quetta on Saturday with the Quetta police on a one-day transit remand. The lawyers of Insaf Lawyers Forum and Hafeezullah Niazi, Hassaan Niazi's father, were present in the court.
The PTI workers, who were arrested during a protest in Quetta, allegedly mentioned Hassaan Niazi's name during interrogation, claiming that they had protested on his instructions. The workers were charged under various provisions, including protesting at Airport police station and blocking roads.
The news of Hassaan Niazi's bail comes amidst tensions between the PTI and opposition parties in Pakistan, with frequent protests and counter-protests taking place in various parts of the country. However, it remains to be seen how this development will affect the ongoing political situation in Pakistan.