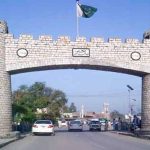 QUETTA: The sit-in of Hazara community which was staged against the killing of innocent civilians in Quetta blast has continued on Monday (today), entering the fourth day at Quetta's Western Bypass.
The protestors of the minority Hazara community have demanded to carry on with their sit-in until higher authorities give them assurance of their protection.
The protestors are demanding justice for the lost members of their community and vowed to continue the protest unless the government's assurance to provide them with justice.
Earlier on Friday, at least 20 people got killed including eight belonging to Hazara Shia community and more than 60 persons sustained severe injuries after a bomb went off in a fruit market in Hazarganji of the city at 8:05 am.
The remaining body parts of the suicide bomber who blew himself up in Hajazarganji's fruit market and claimed 20 lives were sent for carrying out DNA tests, officials of Counter-Terrorism Department said.
The CTD officials added that they will contact NADRA for identification of the suicide bomber and also carry out geofencing of the crime scene.