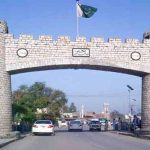 QUETTA: The Hazara Community of Balochistan has rejected Interior Minister Ahsan Iqbal's request to call off sit-in and continued their protest on the second consecutive day.
The Minister paid an emergency visit to Quetta on Monday night to hold talks with the protesters, who have been staging sit-in outside Balchistan Assembly against the target-killing of Hazara Community members.
Talking to the protesters, the Interior Minister said that security forces have rendered matchless sacrifices in war on terror adding that 37 security personnel have so far laid their lives in the line of duty in Balchistan during the current year.
He added that security personnel have put their lives at stake to improve law and order in the entire country and told the protesters that terrorists were not only targeting a particular sect but the entire country.
Trying to appease the protesters, Ahsan Iqbal assured them the culprits involved in target-killings would be brought to justice at all costs and requested them to call abandon their sit-in.
The protesters; however, turned down the Minister's request and said that they would continue their protest till the visit of Chief of Army Staff (COAS) General Qamar Javed Bajwa.