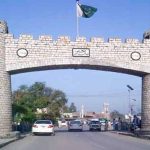 PESHAWAR: The head of a joint investigation team formed to probe the abduction and murder of Superintendent of Police (SP) Tahir Khan Dawar was replaced on Tuesday.
The Islamabad chief commissioner had earlier issued a notification regarding the formation of a JIT to probe SP Dawar's murder and it was to be headed by Islamabad SP Police Investigation Gulfam Nasir.
However, reports said, that SP Nasir has been replaced by DIG Operation Faisal Raja as the head of the JIT.
"The SP Dawar case is a high-profile case and thus a senior officer has been appointed as head of JIT," sources added.
SP Dawar was kidnapped in Islamabad on October 26 and his body was recovered in Afghanistan's Nangarhar province last week.