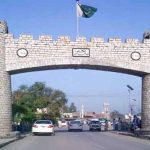 LAHORE: A district and sessions court said on Tuesday it will not resume hearing the contraband case against Pakistan Muslim League-Nawaz leader Rana Sanaullah until the Anti-Narcotics Force (ANF) personnel present record.
Rana Sanaullah was presented before a district and sessions court in the contraband case today. Sanaullah was on judicial remand after his arrest due to the discovery of a large stash of contraband in his vehicle.
In the hearing, Rana Sanaullah's lawyer presented arguments, saying that his client was a target of political vengeance.
The lawyer said that a challan has not been presented so far in the case, adding that the case's file, mobile, and medicines of his client have still not been released.
The court stated that it cannot resume hearing until it gets the record from the ANF and indefinitely adjourned the case.
Before the hearing, Mall Road and adjacent areas faced traffic jam as security was increased around the court premises and routes restricted with containers.
Last month, Sanaullah, a member of the National Assembly (MNA) and president of the PML-N's Punjab wing, was arrested in a drug-related case.
An ANF (Lahore) spokesperson had confirmed that the PML-N's senior leader was arrested and a case was being filed in accordance with the Control of Narcotics Substances Act, 1997, after a large stash of contraband was recovered from his vehicle.