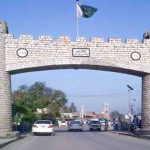 ABBOTTABAD: Heavy rains and thunderstorm during last twenty four hours triggered flash floods in many parts across Hazara Division damaging telecommunication system.
The flash flood hit Karakoram Highway at various places of Abbottabad and Mansehra.
Several connecting roads in Galyat, Thandiani, Mansehra Battagram and Kaghan Valley have also been damaged by the heavy rain, land sliding and floods.
Commissioner Hazara Division directed all district administrators to remain vigilant during the current spell of rain to deal any untoward situation.
The Meteorological Department has forecasted more rain with thunderstorm at scattered places in Hazara division during the next 24 hours.