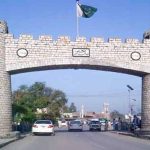 PESHAWAR: Pakistan Tehreek-e-Insaf (PTI) Chairman Imran Khan has excused himself from appearing in National Accountability Bureau (NAB) in a case pertaining to the misuse of helicopter belonging to Khyber Pakhtunkhwa.
The NAB office of Khyber Pakhtunkhwa had summoned Imran Khan in personal capacity today; however, sources of PTI said that party's chief could not appear in the anti-graft body due to election campaign.
The sources added that a lawyer would represent Imran Khan in NAB.
Imran Khan has been accused of misusing a helicopter of the Khyber Pakkhtunkhwa government and subsequently inflicting losses of millions rupees on national exchequer.