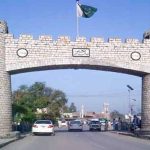 ---
DERA GHAZI KHAN: In an ongoing operation in Dera Ghazi Khan, the security forces and other law enforcement agencies demolished eight hideouts of Ladi gang and their ringleader Khuda Bakhsh Ladi's house.
An operation has been launched against the Ladi gang of outlaws in Koh-e-Sulaiman tribal area on the orders of Prime Minister Imran Khan. Heavy contingent of Rangers, Punjab Police and Border Military Police reached the tribal area for the purpose.
The joint operation in which five armoured vehicles, Rangers, police and more than 500 personnel of CTD, BMP, Baloch Levies Forces are participating is reportedly aimed at apprehending the dacoits. The operation continued on Friday in which the security forces demolished hideouts of Ladi gang and the house of ringleader Khuda Bakhsh Ladi.
Forces detained and questioned several people on charges of facilitating the Ladi gang and Khuda Bakhsh's grandfather Allah Bakhsh has also been arrested. Sources said the top operatives of the Ladi gang fled the area on motorcycles with weapons last night and moved to a safer place.
Forces have also taken the help of aerial surveillance from helicopters to arrest the fugitives. Regional Police Officer Captain (retd) Muhammad Faisal Rana, who oversaw the operation on the spot said, "Police and Pak Army have stood with Rangers against the enemies of this society. We are supporting the forces for the success of this operation. IG Punjab Inam Ghani is also monitoring the situation. Muhammad Jamil Mamdani, an activist of the Ladi gang, surrendered in the area magistrate's court and was arrested."
Muhammad Ladi, a member of Ladi gang which was founded a couple of decades ago, kidnapped workers and damaged the factory facilities after their gang was denied the labour contract in the cement factory.
However, the police allegedly killed him on the tip-off of the people of the Jiani tribe of the area in an encounter.
Due to which enmity between Ladi and Jiani tribes begun and has claimed lives of over 24 people. At least 38 cases have registered against Ladis so far.
Recently, Ramazan Jiani allegedly invited Haroon Ladi after which a video went viral in which Haroon's limbs were mutilated.
Meanwhile, to avenge Haroon's death, Ladi gang kidnapped Ramzan Jiani along with two other accomplices and brutally killed, Ramazan and Khairo. They also made the video of the murder viral to spread terror in the area.