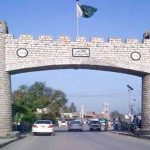 KARACHI: The Oil and Gas Regulatory Authority (OGRA) has sent its recommendations to the government to increase the prices of petroleum products for the month of June.
According to media reports, OGRA has forwarded a summary recommending hike in prices of petrol and diesel by Rs. 7.10 and Rs. 5.20 per litre respectively to the petroleum ministry for approval.
However, a final decision on OGRA's recommendation rests with the government.
On May 1, the government had increased the prices of petroleum products following the rejection of OGRA's proposal to make an even bigger upward revision.