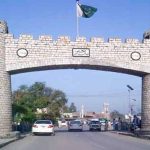 KHANPUR: The two Hindu girls, who were allegedly abducted from Sindh's Daharki area, have soleminised Nikah (marriage) after accepting Islam of their own free well.
Reportedly, the two Hindu girls were allegedly kidnapped from their home in Daharki area in Sindh on the eve of Holi.
The girls have also approached a court in Bahawalpur for protection.
Religious cleric Allama Qari Bashir Ahmad had soleminised nikah of Hindu girls, while Sunni Tehreek Punjab General Secretary Jawad Hassan Gull had also attended the Nikah ceremony.
Earlier, Prime Minister Imran Khan had ordered a probe into reports of abduction of two Hindu girls in Sindh province and to take immediate steps for their recovery, Federal Minister for Information and Broadcasting Fawad Chaudhry said.
The federal minister in his latest tweet on Sunday said that the prime minister has directed Punjab Chief Minister Sardar Usman Buzdar to immediately investigate into the matter of reported abduction of two Hindu girls from Sindh and their shifting to Rahim Yar Khan.
He has asked for early recovery of the abducted girls if the reports are true.
Chaudhry said the PM Imran Khan has also directed Sindh and Punjab governments to devise a common strategy about the matter and take concrete steps to prevent such incidents in future.
He said white colour in our national flag represents minorities in the country and we love all of our colors, adding that protection of the national flag is our national duty.