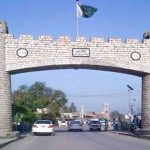 PESHAWAR: Khyber Pakhtunkhwa Health Minister Dr. Hisham Inamullah Khan paid a surprise visit to Central Jail hospital Peshawar on Sunday.
The Health Minister inquired health of psychiatric patients and listened to their problems.
He assured the patients of providing all possible facilities in the hospital.
Hisham Inamullah Khan also announced provision of new electricity generator, fans and air cooler for the hospital from his personal account.
The Minister called a meeting comprising Secretary and Director General Health for resolving issues of the hospital.