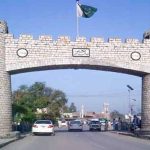 KARARACHI: Home Minister of Sindh Sohail Anwar Siyal has directed the law enforcement agencies to arrest Abdul Qadir Patel immediately and present him before the court.
Abdul Qadir Patel managed to escape the court during the court ruling after his arrest warrants were issued.
"Sindh government does not support any kind of unruly activities and will take strict action against all those involved. Law shall take its course.", said the Minister.