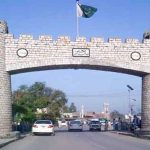 ISLAMABAD: Mainly hot and dry weather is expected in most parts of the country in next 24 hours, while chance of very hot in Sindh, south/central Punjab, D.I.Khan, Sibbi, Makran divisions.
A shallow westerly wave is affecting upper parts of the country and likely to persist during next 24 hours, an official of Met office told APP.
In last 24 hours weather remained hot and dry in most parts of the country, while very hot in upper Sindh, Makran, Sibbi divisions.
Light rain-thundershower with gusty winds occurred at few places in Malakand division and Gilgit-Baltistan during this time span.
Rainfall during this time duration was recorded at KP: Kalam 04mm, GB: Bunji 02mm and Astore Trace.
Highest temperature recorded on Tuesday were:
Moenjodaro 50°C, SH.Benazirabad, Larkana, Dadu, Jaccobabad, Lasbella, Sibbi, Bahawalnagar 49°C, Padidan, Sukkur, Rohri, Turbat, R.Y.Khan 48°C, Faisalabad Lahore, Hyderabad 45°C, Multan 44°C, Islamabad, Karachi, Peshawar 41°C, Muzaffarabad 36°C, Chitral 33°C, Quetta 32°C and Murree, Gilgit 29°C.