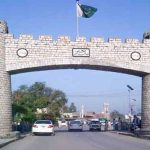 LAHORE: Jamaat-ud-Dawa chief Hafiz Muhammad Saeed said that his house arrest order came from New Delhi and Washington, and it is an attempt to sabotage the struggle for Kashmir.
Talking to media outside the central office of Jamaat-ud-Dawa in Lahore, Hafiz Saeed said that Kashmir freedom movement would continue till the end of my life.
"We want to maintain the sovereignty and integrity of Pakistan. Even not a single case against us in the country". he said.
Earlier, the federal government ordered to place Jamaat ud Dawa chief Hafiz Saeed under house arrest.