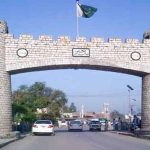 PESHAWAR: The Khyber-Pakhtunkhwa (K-P) government has imposed a "flood emergency" in Charsadda and Nowshera districts after the floods hits the nearby villages on late night Friday.
The district administration of the Charsadda and Nowshera asked the local population to evacuate the low-lying areas of the flood during the daylight as evacuation at the night would prove difficult.
The Pakistan Meteorological Department (PMD) warned that a 300,000 cusec flood wave would pass through the district during the next 24 hours.
Currently, the flow of water in the Kabul River is 120,000 cusecs. The administration has closed all the public and private educational institutes for the next two days.
In Attock, the administration has also issued a moderate flood warning in River Kabul and warned people through the announcements in the Mosques.
The Rescue 1122 sources have also received a high alert. In view of the situation, Rescue Attack formed teams of 20 personnel with the transport of two ambulances, two rescue vehicle, and two boats to save people.
According to the Tarbela control, 470,000 cusecs of water are being released from the dam and after some time, more than 20,000 cusecs of water will be added to it.