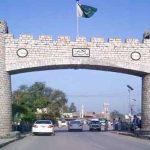 CHARSADDA: The police and security forces during a joint operation seized huge cache of arms and explosives including heavy arms in Ghani Khan Road area of Charsadda on Monday.
Rocket launchers, 28 hand grenades, detonators, and other explosive materials were recovered during joint operation. The recovered arms and explosives were hidden in a ditch by the side of the road.
No arrest was made during the search operation.