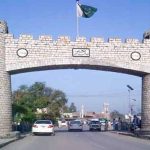 KARACHI: Karachi police recovered huge cache of firearms hidden in an abandoned house in the vicinity of Nine Zero—sealed headquarters of Muttahida Quami Movement (MQM) in Azizabad area of Karachi here on Wednesday morning.
The seized firearms recovered from the house located behind Lal Qila Ground and Khursheed Begam Memorial Hall include over 300 anti-aircraft rocket-launchers and sub-machine guns.
The weapons were hidden in out-of-use water tank. The number of recovered weapons is so huge that full-capacity trucks were called in to transport them.
A heavy contingent of police took the entire area in security cordon this morning to launch the action. There is no report so far if anyone has been arrested in the action.