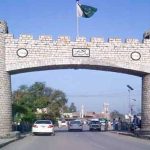 NEW YORK: Under clear blue skies, thousands of Sikh men, women and children gathered in New York City on Saturday to reaffirm their demand for a sovereign Sikh state.
Wearing orange, purple and yellow turbans, Sikhs also showcased their culture with live music, dancing and decorated floats as the vibrant parade moved down the City's Madison Ave.
But the message they conveyed forcefully was that the Sikhs are a separate nation and that the campaign for independence of Punjab was rapidly gaining momentum in the diaspora.
The first Sikh parade in New York City was held in 1988 after the Sikh community boycotted the India's Independence day celebrations to protest Indian army's attack on the Golden Temple in Amritsar and instead support the campaign for a separate Sikh country — Khalistan.
One of the floats depicted the 1984 Indian Army attack on the Golden Temple, with participants vowing to uphold and project the Sikh identity and to endorse the call for referendum in the state of Punjab.
The Coordinator of Sikh Day Parade Gurdev Singh Kang said, "Every year since then Sikh community from North America come together in April and resolve their commitment to the Independence of Punjab and this will continue until we achieve Sikh homeland Khalistan."
"In the year 2020 Sikhs will hold a non-binding referendum in which the community will be asked to opine on the question of right to self-determination" said Gurpatwant Singh Pannun, legal advisor to SFJ which is spearheading an international campaign to seek independence of Punjab.
"The overwhelming support for referendum campaign across Sikh masses shows that once again in 2020 we will be able to establish before the World powers that Sikhs are seeking independence of Punjab peacefully, democratically and through UN Charter and Covenants," attorney Pannun added.