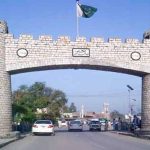 ISLAMABAD: Former Senior Superintendent Police (SSP) Malir, Rao Anwar has landed in hot water as the National Assembly Standing Committee on Human Rights has also summoned him today over Naqeebullah Mehsud's extrajudicial murder.
Earlier today, the Karachi police raided the residence of Rao Anwar but could not arrest the ex-police officer for he was not there.
Media reports said that two other people have been arrested during the raid and they were being interrogated.
The development came after Rao Anwar – accused of the extrajudicial murder of Naqeebullah Mehsud – refused to appear before the inquiry committee constituted to investigate the Mehsud's murder.
Investigation Officer (IO) Abid Hussain Qaimkhani had directed Rao Anwar and six other police officials to appear before the committee at the office of Deputy Inspector General (DIG) East on Sunday.
However, Rao Anwar did not complied with the order and said that he would not go to the DIG East Office.
Talking to media, the former SSP said that he had yet not decided to appear in other meetings of the investigation committee.
Naqeebullah Mehsud was recently killed by Rao Anwar and his team in an alleged encounter in the jurisdiction of Shah Latif police station in Karachi.
Rao Anwar had claimed that Naqeeb was a terrorist adding that he had substantial evidence supporting his claim.
However, Naqeebullah's family, friends and acquaintances – who said that Naqeebullah was fond of taking selfies and wanted to become a model – have categorically denied the claim.