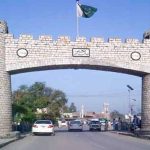 SWAT: The newlywed 17-year-old Sana Gul was brutally murdered by her own husband because she wanted to pursue her education.
San Gul had been married to Anees a national of France three months back. She was student of 11th grade and had secured A Grade. She wanted to continue her education. She just wanted to go for her 12th Grade now.
Her husband and in-laws were against her wish to pursue further education.
It is being reported her husband Anees was a citizen of France and was flying back on Sunday. Before flying back he shot her dead and went missing.
The incident took place in City of Swat. The murderer is probably already on his way to France. It is also being reported mother of the killer husband is also in France.
Social Media has started raising voice and demanding Justice for Sana Swat. People are demanding arrest of Anees and asking the authorities to alert all the airports. The culprit must not escape the country.