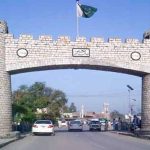 ISLAMABAD: Former police officer Hussain Asghar has been appointed as head of inquiry commission earlier announced by Prime Minister Imran Khan to probe the loans taken in last 10 years.
The federal cabinet today approved Hussain Asghar, who is currently serving as the Deputy Chairman National Accountability Bureau, as head of commission.
As a police officer, Hussain Asghar also served as Director anti-corruption establishment Punjab and Director Federal Investigation Agency (FIA). He also investigated Hajj corruption scandal.
The cabinet meeting pondered over the names of Shoib Siddle, Hussain Asghar, retired judge and police officer to head the inquiry commission.
In his post-federal budget speech, the prime minister put the blame for economic woes of the country on former governments of Pakistan People's Party (PPP) and Pakistan Muslim League-Nawaz (PML-N).
He explained how the two former governments had been involved in corruption and burdened the country with huge foreign loans.
The prime minister said the two political parties entered into an alliance and kept bringing a chairman of National Accountability Bureau (NAB) of their own choice.